An upcoming Singapore Condominium,Parc Riviera is a project by EL Development, well-known reputable developers with extensive experience in real estate, will be launching soon in 2016 and is expected to be completed in 2020. With time, through profound hard work and a clear vision of 'emphasizing on the quality' of their work, they have been able to achieve success.
Parc Riviera will be located on West Coast Vale,District 05 Singapore. next to the waterfront of Sungei Pandan. This residential development will consist of two 40-storey high towers and is said to accommodate up to 700 luxurious apartments. The total site area is 18,908.7 square meters
To date, West Coast Vale is one of the popular property spots in Singapore. Its central location is perhaps one of the reasons this. Over the period of time, it has experienced unstoppable growth and has attracted a number of property developers be it be commercial to residential spaces, new real estate developments have taken place.
Parc Riviera is situated just a few minutes away from Jurong East and Clementi Mall. This ambitious property of EL Development is expected to attract condo-dwellers and investors in the city. It will be fully equipped with normal Condominium facilities and will be surrounded by parks and recreational facilities. The park connector along Sungei Pandan is just besides Parc Riviera , future residents of this Condominium will be able to enjoy the captivating greenery in the parks while taking their daily walk or jog. The name "Parc" is an alternate form of the word "Park", while "Riviera" means a coastal area. The name is apt for the project.
The land where the project is was initially offered by the government to six developers. Each of these developers submitted their own plan, and was awarded to El Development. The company bid $314 million for the project. It is $10 million higher than the bid that has been submitted by the second highest bidder, Hoi Hup Realty .  This new condo will be going at competitive rates, developer anticipate that it will sell quickly.
Parc Riviera is designed with a contemporary layout with a spacious ambiance; each unit is fully furnished with top quality appliances and furniture. The classy glass window features enhances the ambiance inside each and every home; ensuring that enough natural light enters every room. It is designed keeping in mind the level of convenience and space that each and every occupant deserves. The aim is to provide enjoyment, luxury and relaxment at every doorstep.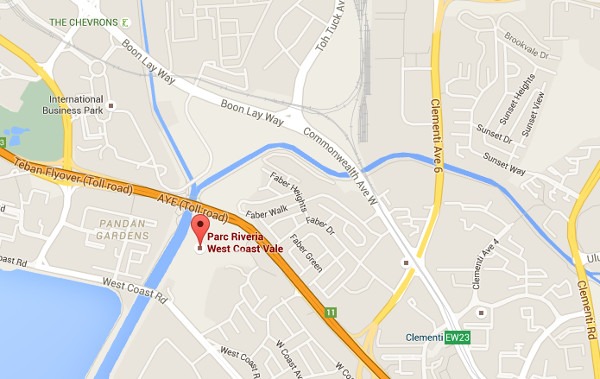 Parc Riviera Condo is around 1.6 km to Clementi Town Centre where the Clementi MRT Station, serving the East-West Line and Clementi Bus Interchange are located. Only 1 station away from Jurong East MRT Interchange where Parc Riviera's residents will easily transit to the North South Line. Also, the Buona Vista MRT Interchange is 2 stations away where the Circle Line is accessible to future residents. By being near to the Ayer Rajah Expressway, it allows easy connectivities for future residences via Central Business District (CBD) to City Centre and the Marina Financial District in approximately 12 minutes. The Ayer Rajah Expressway (AYE) also links to the Central Expressway (CTE) which takes approximately 13 minutes of drive to get to the Orchard Shopping Area.
Educational Institutions such as National University of Singapore(NSU), School of Science & Technology and Singapore Poly, some of the prestigious primary and high schools such as Clementi Primary School, Pei Tong Primary School, NUS High School of Mathematics and Science are within close proximity to the project. Parc Riviera would be a personal favourite for Japanese families as The Japanese Kindergarten and The Japanese Secondary School would be in very nearby.
Parc Riviera would be a short walk away from NeWest, which is an upcoming development located at the former Hong Leong Garden. It will have many retail and food beverages outlets. Also, there are three food centres at a close distance on West Coast Road. Not only that. West Coast Marketplace is where day-to-day important needs would be fulfilled. West Coast Marketplace opened and has recently been renovated for the residents of Parc Riviera with more booths to select from.
Some buyers are heard proposing the developer should provide a feeder bus from Parc Riviera condominium to Clementi Bus Interchange and both Jurong East MRT Station. So, having a direct bus from the condominium will be optimum. Also, many school goers might favor the Clementi place as it's nearer to National University of Singapore (NUS) as well as Singapore Polytechnic (SP).
Parc Riviera indeed will provide an awesome lifestyle cupped by convenience and luxury.
Parc Riviera Attarctions
1 station away from Jurong East MRT Interchange
2 stations to Buona Vista MRT Circle Line Interchange
Fantastic view of the greenery
Next to park connector along Sungei Pandan
Close proximate to Central Business District (CBD) and Ayer Rajah Expressway (AYE)
Near Educational Institutions such as National University of Singapore (NUS) , Singapore Polytechnic (SP).
Near high schools such as Clementi Primary School, Pei Tong Primary School, NUS High School
Well Known developer -EL Development
Parc Riviera @ West Coast
Description: Residential development with full condo facilities
Address: West coast vale
District 05
Developer : EL Development
Tenure: 99 years Leasehold
Expected TOP: 20 Aug 2020
No. of Units: 752
Please Register HERE, as viewing is by app only. Thank you.
[contact-form-7 id="36029″ title="Parc Riviera"]
Below are some other developments :
Average rating:
1 reviews
Jun 18, 2016
Great , I am waiting for this area