One Regent Apartments @ Manchester
One Regent Apartments @ Manchester

by Kenny

One Regent Apartments @ Manchester located only 2 minutes from Castlefield, one of Manchester's most vibrant city, surrounded entertainments such as museums, studios, performance spaces, bars ,wide range of restaurants and bustling commercial business area. A bliss 5 minute walk away will be the historic city centre and MediaCityUK.

Manchester the second largest economy in UK after London, has a world class transport infrastructure. Travelling around the city is a breeze the free bus ride around the city or travel via The Manchester Metro, the biggest tram system in the UK with 92 stops and a fleet of nearly 100 trams. The capital London City, is easily accessible via a mere 2 Hours train ride.The city ranked in top 10 European cities for transport links and Manchester Airport has been awarded the UK's best airport for several years with more than 200 destination.

One Regent Apartments featured four towers of vary heights., with the tallest at 28 storey acting as marker at the Gateway within the City Centre,6 townhouses fronting Water Street.The concierge and apartment entrance at the corner of Water Street and Regent Road, with 2 commercial units facing Regent Road.

One Regent @ Manchester also have a private landscaped podium, roof garden, basement and ground floor parking lots with a good mixture and spacious layout of 1, 2 and 3 bedroom apartments.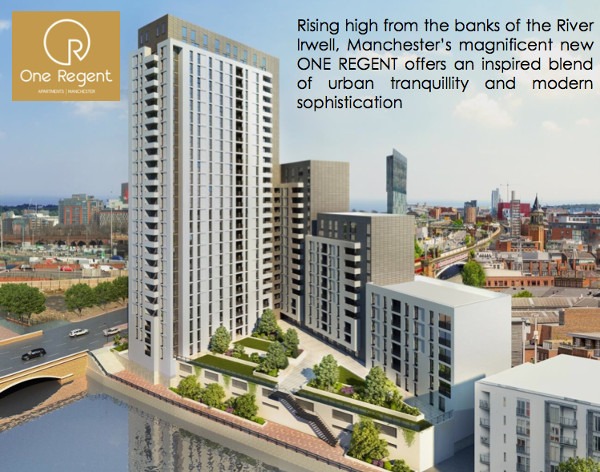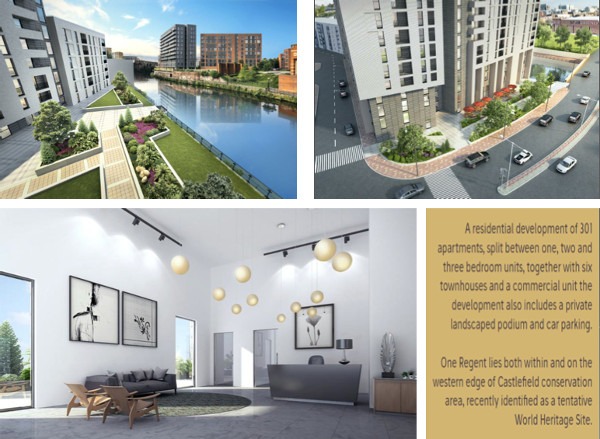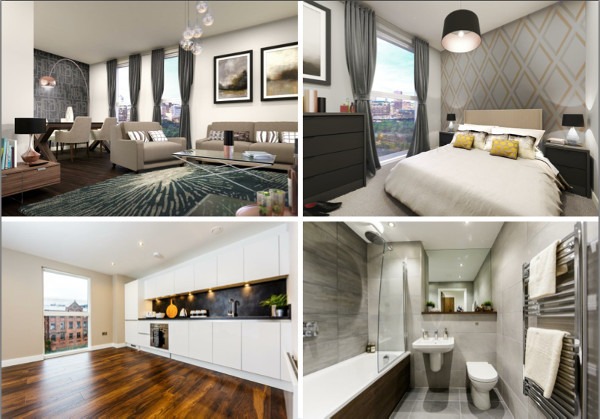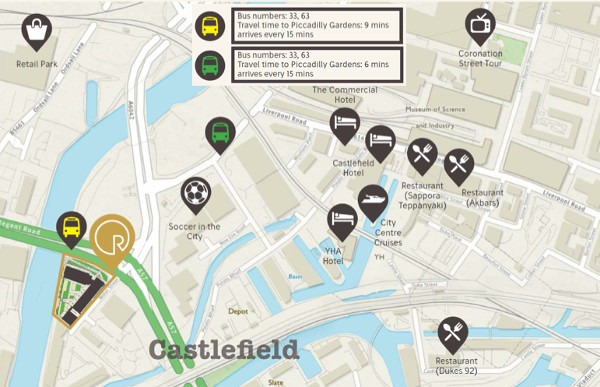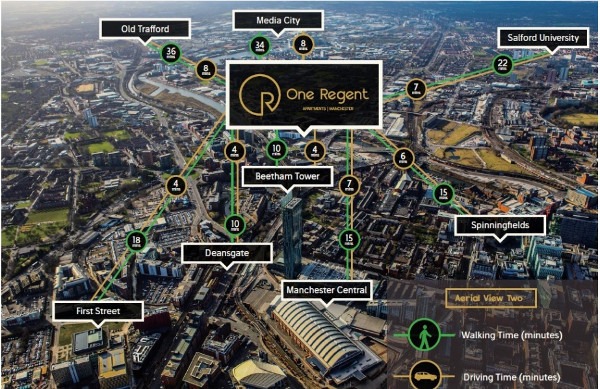 One Regent Apartments Attractions
•Manchester Airport provides flights to over 220 destinations, more than any other airport in UK
•Manchester the 2nd largest economy beside London
•Manchester has the Second largest Chinatown in the UK
•UK 2nd largest foreign direct investment hub
•Home to 80 of the FTSE 100 (top 100 companies listed on UK Stock Exchange)
•Manchester the "Best UK City to Live" according to the Economist 2013, 2014 and 2015
•Manchester home of 2 world class football clubs Manchester United & Manchester City
•Manchester has the largest student population over 400,000 students in 22 universities in Europe
•Manchester has the highest rental yield in UK according to HSBC Survey
•Voted as the best UK city to live from 2013 to 2015
•Strategic located in Manchester city centre, walking distance to restaurants, cafes, bars (Deansgate Locks), Deansgate train and tram station, Spinningfields (Manchester Financial Center
•Shortage in housing supply
•Projected 135,000 growth in population by 2023
•Have over 100,000 new job opportunities
•Low investment option in First World Established Country from £1xxK and Only 20% upfront required
•Developer is giving guarantee rental yield 6.5% per annum for 2 years
One Regent Apartments Specifications
 Development Name:One Regent
 Address: 1 Regent Road, Castlefield, M3 Manchester
Developer: Fulcrum Global
 Property Type: Apartments
 Tenure: 250-year Leasehold
 Est. TOP / Turnover Date: Q2/Q3 2017
 No. of Floors:
 142
 Car Park lots:(Basement 71 Lots, Ground 45 Lots) Total 116
 Finishes & Fittings:
•Walnut laminate flooring to halfways and living areas
•Carpets to all bedrooms
•Procelanosa tilling to all bathrooms and en-suites
•Kitchen equipped with cabinet complete with integrated cereamic hob, oven and concealed re-circulating cooker hood and integrated fridge-freezer and automatic dishwaster
 
One Regent Apartments Payment schedule
1. Submit signed Purchaser Particular and Reservation Form with copy of NRIC, Passport and
proof of Address and a cheque of S$5,000 being Admin Fee payable to Huttons International Pte Ltd.
2. Remit  £2k to developer's account within 3 working days.
3. Remit 20% (less  £2k) payment to purchaser's solicitor upon Exchange of Contract
4. Balance 80% payable upon completion.
Please Register HERE, as viewing is by app only. Thank you.
[contact-form-7 id="35623″ title="One Regent Apartments @ Manchester"]