Paya Lebar Quarter | Floor Plans | Price | Showflat | Location |
The end development value of this project is estimated to be around SGD$3.2 billion. Gross floor area is said to be 1.8 million square feet while total retail space will be over 340,000 square feet. The construction of this project commenced in January 2016 and is expected to go on till 2018. Talk is that the project will be completed in phases. The commercial and retail components are said to be completed in the other half of 2018 while residential component will be completed in first half of 2019. Hence there are total of 7 buildings in this project and this site is a 99-year leasehold site. The plan for this site says that Towers 1 and 2 will be having 14 floors each while Tower 3 will have 13 floors. The residential towers will have residential units that range from 1BHK-3BHK residential units.
Thus this is a high value S$3.2 billion project that comprises of retail, commercial and residential space. Other facilities like cycling path, lockers, bicycle storage, showers and more will be available for tenants. This is done in order to help Singapore in its vision of a car-lite city. Paya Lebar Oquarter's elevated pedestrian network will perfectly connect you to both its campus and beyond. Thus whether you want to explore the development campus or its rich neighborhood, it will be very easy to do so.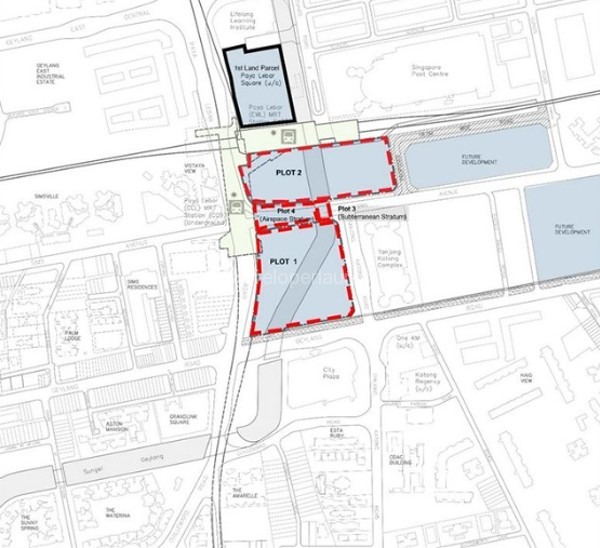 Park Place Residences | Price | Location | Floor Plans | Showflat
Park Place Residences will consist of two adjoining lots and the development is said to be worth
SGD$3.2 billion. The site region would be of 4 hectares. Site construction commenced in
January 2016 and is estimated to be completed in 2018. The development will be having seven
towers out of which three will be residential. The three residential towers would be consisting
of about 429 units. Tower 3 would be having 13 floors while Tower 1 and Tower 2 would be
having 14 floors. The project will be a prime retail destination which will be having retail
combination adapted towards mid-to- mid plus entertainment and retail choices. The
development faced height restrictions because of its closeness to Paya Lebar Airbase. Hence,
the developers decided to build up to 13 floors.
This project is developed on two joint plots which would be on the area spanning 3.9ha. Out of
the two plots, one plot will be having a retail mall and two office blocks while the other three
condo blocks and one more office building will be located on the other plot. The mall will be
spanning 340,000 sq ft retail mall which would be housing about 200 stores plus cinemas on
over seven floors. It is expected that about 30% of the tenants would be food and beverage
operators. The first two anchor tenants of this location are foodcourt Kopitiam who would be
spanning 15,000 sq ft and supermart NTUC FairPrice Finest who would be spanning 22,000 sqft.